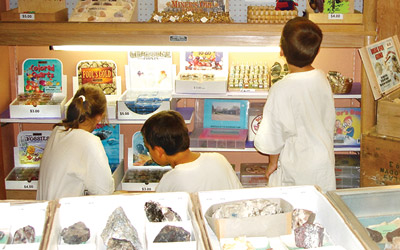 If you feel like taking home a souvenir or attractive mineral to remember your visit with us, you may want to visit our Museum store in the lobby. We have in stock hundreds of different gift items, including a large selection of jewelry, local and worldwide minerals, fossils, ultraviolet lamps, earth science books, and more.
Parents please note: our sales stock includes many kid-appropriate items offered at kid-friendly prices.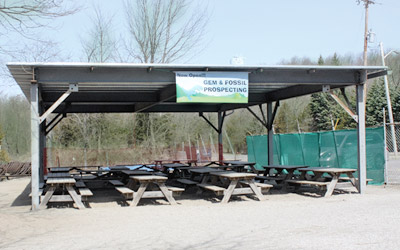 Two picnic areas are provided on the grounds for the enjoyment of our visitors. One, in a grassy area directly behind the Museum, is bordered by shade trees. Nearby, a second picnic area beneath a pavilion offers shelter from the rain and a shady place to sit during hot weather.
Vending machines nearby offer soft drinks and snacks in the Museum lobby.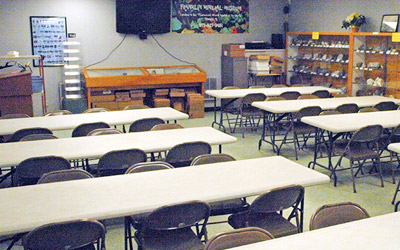 Kraissl Hall, the Museum's lecture Hall, doubles as a classroom and lunchroom and features, along one wall, glass display cases housing historic ultraviolet lamps, geological specimens from the local zinc mines, and mineral specimens collected during local, club-sponsored field trips.
Kraissl hall is also the meeting place of the Franklin-Ogdensburg Mineralogical Society (FOMS), an organization dedicated to preserving the mineral heritage of the local mines. Interested in joining FOMS?
Visit fomsnj.org