Mineral Species Found at Franklin and Ogdensburg, NJ
REVISED BY FMM MINERAL LIST COMMITTEE, AUGUST 2015
The Franklin Mineral Museum (FMM) is responsible for publishing periodic updates to the list of mineral species known to occur in the Franklin Mining District. This list has traditionally appeared every fall in the show booklet for the Franklin Gem and Mineral Show, an event sponsored by the FMM and now in its sixth decade, and is also published on occasion in The Picking Table.
A museum-appointed Species List Committee prepares this list in consultation with various subject-matter experts. Members of the current committee are Richard Bostwick, Dr. Steven Kuitems, Lee Lowell, Tony Nikischer, and Dr. Earl Verbeek with extensive technical assistance and advice from Vandall King.
The Species List Committee holds to strict standards of identification. Before the advent of this committee and involvement of the Franklin Mineral Museum, some previous lists were flawed by incorrect sight identifications (often of minerals that were not inherently sight-identifiable), insufficient data to uphold a claimed identification, or claims of positive identifications based on unknown or unrevealed sources. In addition, problems of fabricated species identifications occurred on occasion, especially when such claims would result in financial gains through increased mineral sales. To hold such problems to a minimum, it is the policy of the Committee to accept only well verified species to its lists. To validate a claim of a mineral new to the area, the Committee requests copies of the original data and specification of the analytical methods used. The discoverer is further requested to submit a descriptive article on the new mineral to The Picking Table, the journal of the Franklin-Ogdensburg Mineralogical Society, for the benefit of the society's members.
Species List Key:
F = Franklin
O = Ogdensburg
(TL) = type locality
bold type = mineral unique to the Franklin-Ogdensburg area.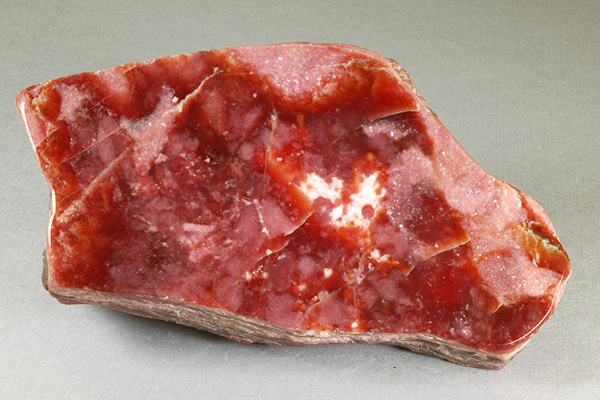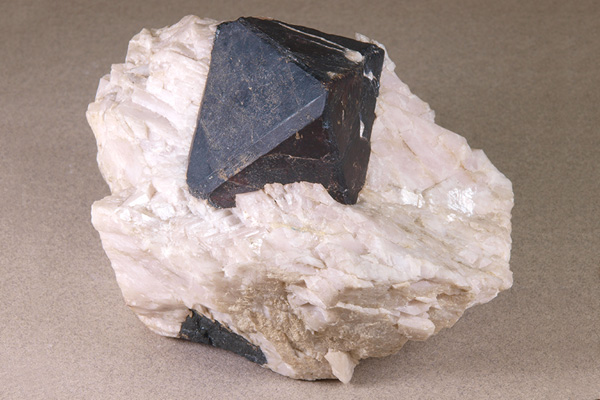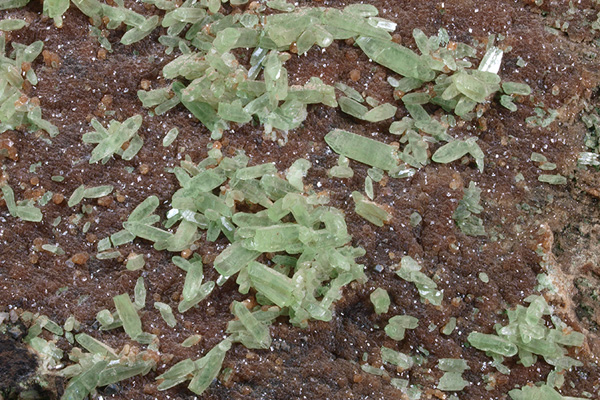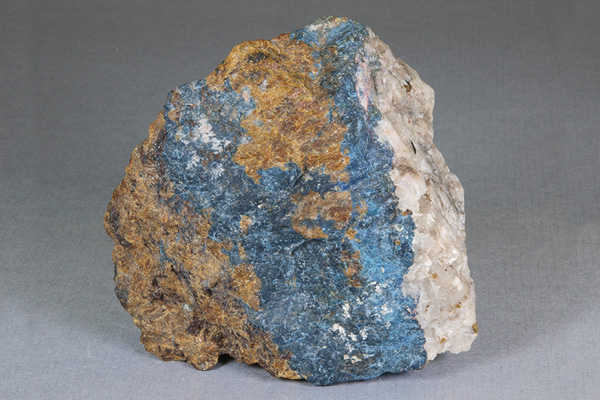 A
Acanthite – F, O
Actinolite – F, O
Adamite – F, O
Adelite – F, O
Aegirine – F, O
Aegirine-augite – F
Akrochordite – O
Albite – F, O var. oligoclase – F
Allactite – F, O
Allanite-(Ce) – F
Alleghanyite – F, O
Almandine – F?
Analcime – F
Anandite1 – O
Anatase – F
Andradite – F, O
Anglesite – F, O
Anhydrite – F, O
Annabergite – F
Annite – O
Anorthite – F, O
Anorthoclase2 – F
Antigorite – F
Antlerite – F
Aragonite – F, O
Arakiite – F
Arsenic – O
Arseniosiderite – O
Arsenolite – O
Arsenopyrite – F, O
Atacamite – F
Augite – F, O
Aurichalcite – F, O
Aurorite – O
Austinite – F, O
Axinite-(Fe) – F
Axinite-(Mn) – F (TL), O
Azurite – F, O
B
Bakerite – F
Bannisterite – F (TL)
Bariopharmacosiderite – O
Barite (IMA = baryte) – F, O
Barylite – F
Barysilite – F
Bassanite – O
Baumhauerite – O
Bementite – F (TL), O
Berthierite – O
Bianchite – O
Birnessite – O
Bornite – F, O
Bostwickite – F (TL)
Brandtite – O
Breithauptite – F
Brochantite – F, O
Brookite – F
Brucite – F, O
Bultfonteinite – F
Bustamite – F (TL), O
C
Cahnite – F (TL)
Calcite – F, O
Canavesite – O
Carrollite3 – F
Caryopilite – F, O
Celestine – F, O
Celsian – F
Cerussite – F, O
Chabazite-Ca – F, O
Chalcocite – F, O
Chalcophanite – F, O (TL)
Chalcopyrite – F, O
Chamosite – F
Charlesite – F (TL)
Chloritoid – F
Chlorophoenicite – F (TL)
Chondrodite – F
Chrysocolla – F, O
Chrysotile – F, O var. clinochrysotile – F var. orthochrysotile – F var. parachrysotile – O
Cianciulliite – F (TL)
Clinochlore – F, O
Clinoclase – O
Clinohedrite – F (TL)
Clinohumite – O
Clinozoisite – O
Clintonite4 – F
Conichalcite – O
Connellite – O
Copper – F, O
Corundum – F, O
Covellite – O
Cryptomelane – O
Cummingtonite – O
Cuprite – F, O
Cuprostibite – F
Cuspidine – F
Cyanotrichite – O
D
Datolite – F
Descloizite – O
Devilline – O
Digenite – O
Diopside – F, O
Djurleite – F, O
Dolomite – F, O
Domeykite – F
Dravite – F, O
Duftite – O
Dundasite – O
Dypingite – F, O
E
Edenite5 – F, O
Epidote – F, O
Hancockite – F (TL)
Epsomite – O
Erythrite – F, O
Esperite – F (TL)
Euchroite – O
Eveite – O
F
Fayalite – F, O
Feitknechtite – F (TL)
Ferrimolybdite – O
Ferro-actinolite – F
Ferrohornblende – O
Flinkite – F
Fluckite – O
Fluoborite – F, O
Fluorapatite – F, O
Fluorapophyllite-(K) – F, O
Fluorapophyllite-(Na) – F
Fluorite – F, O
Fluorophlogopite – F, O
Fluor-uvite – F (TL), O
Forsterite – O
Fraipontite6 – O
Franklinfurnaceite – F (TL)
Franklinite – F (TL), O
Franklinphilite – F (TL)
Friedelite – F, O
G
Gageite – F (TL)
Gahnite – F, O
Galena – F, O
Ganomalite – F
Ganophyllite – F
Genthelvite – F, O
Gersdorffite – F
Gerstmannite – O (TL)
Glaucochroite – F (TL)
Glaucodot – F
Goethite – F, O
Gold – O
Goldmanite – O
Graeserite – O
Graphite – F, O
Greenockite – F, O
Grossular – F, O
Groutite – F
Grunerite – F
Guérinite – O
Gypsum – F, O
H
Haidingerite7 – O
Halotrichite – O
Hardystonite – F (TL)
Hastingsite – F, O
Hauckite – O (TL), F
Hausmannite – F
Hawleyite – F, O
Hedenbergite – F
Hedyphane – F
Hellandite-(Y) – F
Hematite – F, O
Hemimorphite – F, O
Hendricksite – F (TL), O
Hercynite – F, O
Hetaerolite – O (TL), F
Heulandite-Na – O
Hexahydrite – O
Hodgkinsonite – F (TL), O
Holdenite – F (TL), O
Hübnerite – F
Humite – F, O
Hydrohetaerolite – O (TL)
Hydrotalcite – F, O
Hydroxyapophyllite-(K) – F
Hydrozincite – F, O
J
Jacobsite – F
Jarosewichite – F (TL)
Jarosite – F
Jerrygibbsite – F (TL)
Johannsenite – F (TL)
Johnbaumite – F (TL), O
Junitoite – F
K
Kaolinite – O
Kentrolite – F
Kittatinnyite – F (TL)
Kolicite – F, O (TL)
Köttigite – O
Kraisslite – O (TL)
Kutnohorite – F, O
L
Larsenite – F (TL)
Laumontite – O
Lavendulan – O
Lawsonbauerite – O (TL)
Lead – F
Legrandite – O
Lennilenapeite – F (TL)
Leucophoenicite – F (TL)
Linarite – O
Liroconite – O
Lizardite – F
Löllingite – F, O
Loseyite – F (TL)
M
Magnesiochlorophoenicite – F (TL)
Magnesio-hornblende – F, O
Magnesio-riebeckite – F
Magnetite – F, O
Magnussonite – O
Malachite – F, O
Manganberzeliite – F
Manganhumite – F
Manganite – F
Manganocummingtonite8 – F, O
Manganohörnesite – O
Manganosite – F
Manjiroite – O
Marcasite – F
Margarite – F, O
Margarosanite – F (TL)
Marialite – F
Marsturite – F (TL)
Mcallisterite – O
Mcgovernite – O (TL)
Meionite – F, O
Meta-ankoleite – O
Metalodèvite – O
Metazeunerite – O
Microcline – F, O
Miguelromeroite9 – O (TL)
Mimetite – F, O
Minehillite – F (TL)
Molybdenite – F, O
Monazite-(Ce) – F
Monohydrocalcite – O
Mooreite – O (TL)
Muscovite – F, O
N
Nasonite – F (TL)
Natrolite – O
Nelenite – F (TL)
Neotocite – F, O
Newberyite – O
Niahite – O
Nickeline – F
Nontronite – O
Norbergite – F, O
O
Ogdensburgite – O (TL)
Ojuelaite – O
Opal – F, O
Orthoclase – F
Orthoserpierite – O
Otavite – O
P
Parabrandtite – O (TL)
Paragonite – O
Pararammelsbergite – F
Pararealgar – O
Parasymplesite – O
Pargasite – F
Pectolite – F
Pennantite – F
Petedunnite – F (TL)
Pharmacolite – O
Pharmacosiderite – O
Phlogopite – O
Picropharmacolite – O
Piemontite – O
Pimelite10 – F
Powellite – F, O
Prehnite – F
Pumpellyite-(Mg) – F
Pyrite – F, O
Pyroaurite – O
Pyrobelonite – F
Pyrochroite – F, O
Pyromorphite11 – O
Pyrophanite – O
Pyrosmalite-(Mn) – O (TL)
Pyroxferroite – F
Pyroxmangite – F, O
Pyrrhotite – F, O
R
Rammelsbergite – F
Realgar – O
Retzian-(La) – O (TL)
Retzian-(Nd) – O (TL)
Rhodochrosite – F, O
Rhodonite – F, O
Ribbeite – F
Richterite – F
Roeblingite – F (TL)
Roméite12 – F
Rosasite – F, O
Rouaite – O (TL)
Roweite – F (TL)
Rutile – F, O
S
Safflorite – F
Samfowlerite – F (TL)
Sarkinite – F, O
Sauconite – O
Schallerite – F (TL)
Scheelite – F, O
Schorl – O
Sclarite – F (TL)
Scorodite – O
Seligmannite – O
Sepiolite – F
Serpierite - O
Siderite – F, O
Sillimannite – O
Silver – F, O
Skutterudite – F
Smithsonite – F, O
Sonolite – O
Spangolite – O
Spessartine – F, O
Sphalerite – F, O
Spinel – F, O
Starkeyite – O
Sterlinghillite – O (TL)
Stibnite – O
Stilbite – O
Stilpnomelane – F
Strontianite – F
Sulfur (IMA = sulphur) – O
Sussexite – F (TL), O
Synadelphite – O
Synchysite-(Ce) – F
Szaibélyite –  O
T
Talc – F, O
Tennantite – F, O
Tenorite – F
Tephroite – O (TL), F
Tetrahedrite – O
Thomsonite-Ca – F, O
Thorite – F
Thortveitite – O
Thorutite – F
Tilasite – O
Titanite – F, O
Todorokite – F, O
Torreyite – O (TL)
Tremolite – F, O
Turneaureite – F (TL)
U
Uraninite – F, O
Uranophane – O
Uranospinite – O
W
Wallkilldellite – O (TL)
Wawayandaite – F (TL)
Wendwilsonite (TL) – O
Willemite – F, O
Wollastonite – F, O
Woodruffite – O (TL)
Wulfenite – O
Wurtzite – O
Y
Yeatmanite – F (TL), O
Yukonite – O
Z
Zincite – F (TL), O
Zinkenite – O
Zircon – F, O
Znucalite – O